It is not uncommon for legal disputes to arise over issues concerning Japanese knotweed and bamboo. They typically fall into one of three categories:
Nuisance (encroachment or threat of encroachment from a neighbouring property)
Misrepresentation (provision of misleading or untruthful information during a property sale)
Negligence (failure of a professional surveyor to detect the presence of a problematic plant)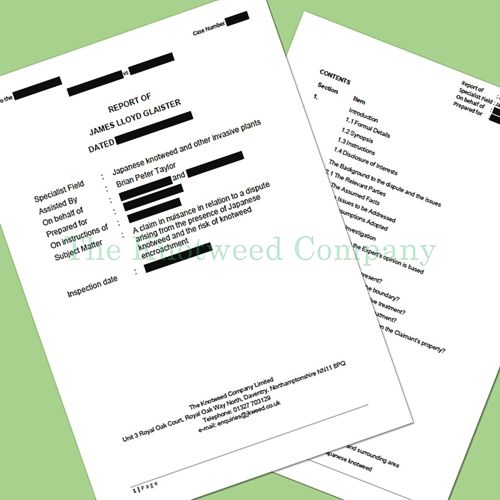 We offer a professional, discreet and confidential service, backed by full Academy of Experts training and membership. Many legal disputes settle out of court, but may still require the services of an expert in the resolution of these lawsuits. Whether cases proceed to court or not, Brian Taylor and Jim Glaister can provide expert witness services and reports in accordance with Civil Procedure Rules (CPR 35) to assist you and your solicitor in resolving these matters.
Brian and Jim are both Associate Members of the Academy of Experts and are experienced in the production of expert reports concerning issues arising from Japanese knotweed and other invasive weeds. Brian is a member of the BASIS Professional Register and is therefore able to advise on the use and selection of pesticides. Both Jim and Brian are examiners for the Japanese knotweed surveyor's qualification (CSJK) through the Property Care Association (PCA) and have each been working in the invasive weed sector for over 15 years. They have the experience and has assisted a number of solicitors concerning problems with invasive weeds.
Their CVs can be downloaded here for Brian and here for Jim.

Brian and Jim are co-authors of Invasive Bamboos: Their impact and management in Great Britain and Ireland, published by Packard Publishing.