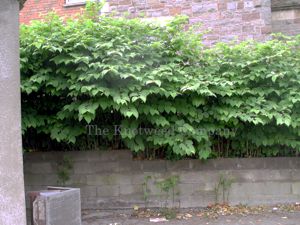 Mature Japanese knotweed growing along
a boundary wall – and through adjacent
tarmac – at a property in Bristol
Japanese knotweed is present in many areas of Bristol. A few years ago, we carried out a number of site surveys that identified large and small infestations of Japanese knotweed in many parks and open spaces, as well as along watercourses in the area – including the Avon and the Severn. Indeed, one of our personnel had the unusual distinction of getting lost in a large stand of Japanese knotweed at Avonmouth on a winter's afternoon and had quite a time finding his way out!
Since this time, the levels of Japanese knotweed infestation in Bristol have only got worse and we now regularly work in the area, treating and removing Japanese knotweed on a variety of sites.
The Knotweed Company services the Bristol contracts from our Southern depot. Our founder, Brian Taylor, was born in Clevedon, and knows Bristol well.
The Knotweed Company services its contracts - which include long-term herbicide programmes, Mortgage Risk Surveys for Japanese knotweed and construction-enabling works - mainly from our Southern premises. Paul Copper is based at Andover and, as a qualified PCA Surveyor and experienced technician, is regularly in the area.