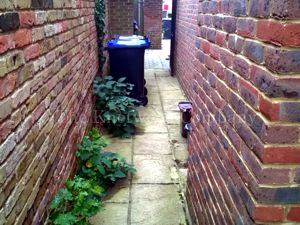 Japanese knotweed growing from beneath a
paved pathway in Buckinghamshire
Japanese knotweed is very commonly found throughout Buckinghamshire and The Knotweed Company covers the whole area, including Milton Keynes, Buckingham, Aylesbury, High Wycombe, Marlow and Amersham, as well as all other parts of the county.
The hybrid Fallopia x Bohemica, which is a cross between giant knotweed and Japanese knotweed, is frequently found in Bletchley, Aylesbury and other parts of the county and appears to be increasing its spread in the area.
The Knotweed Company is able to offer competitive pricing and professional services for all invasive weed problems from our Regional Offices in either Winchester or Northamptonshire.
The Knotweed Company services its contracts - which include long-term herbicide programmes, Mortgage Risk Surveys for Japanese knotweed and construction-enabling works - mainly through the use of our local technicians and surveyors Brian Taylor, Kevin Gilderson and Paul Copper.