---
Japanese knotweed in Essex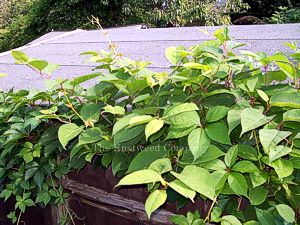 Japanese knotweed growing between a
shed and a fence in a garden in Essex
Japanese knotweed is very common in all parts of Essex. The Knotweed Company is currently working on contracts in almost all parts of Essex and knotweed may be seen throughout the county.
The company and staff have many connections with Essex. Our founder, Brian Taylor, and local technician, Kevin Gilderson, both studied at Writtle College (at different times!) and Kevin still lives in the county. The company has ongoing contracts with a number of individuals and organisations in the county including Witham Town Council.
The Knotweed Company services its contracts - which include long-term herbicide programmes, Mortgage Risk Surveys for Japanese knotweed and construction-enabling works - mainly through the use of our local technician and surveyor Kevin Gilderson.
Please read our cookies and privacy policy here
Copyright © 2018 · All Rights Reserved ·