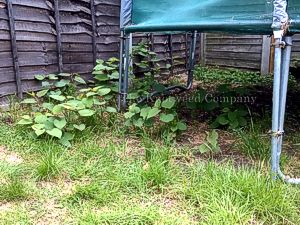 Japanese knotweed regrowth in a
residential garden in Kent
Japanese knotweed is very common in all parts of Kent and The Knotweed Company covers all of the county, including Margate, Dover, Bromley, Rochester, Tunbridge Wells and Tonbridge.
If you live in Kent, we are already working near you and are able to offer you our professional services at competitive prices. We have recently been working on a Network Rail project in Rochester and have on-going maintenance programmes throughout the county.
The Knotweed Company services its contracts - which include long-term herbicide programmes, Mortgage Risk Surveys for Japanese knotweed and construction-enabling works - mainly through the use of our local technicians and surveyors Kevin Gilderson, Paul Hamilton and Paul Copper.