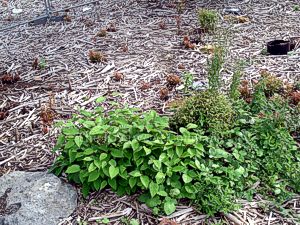 Healthy and stunted ('bonsai') Japanese
knotweed regrowth, partway through a
treatment programme in Northampton
Japanese knotweed is present in many parts of Northampton and the wider area of Northamptonshire. The Knotweed Company have identified and treated many stands in Northampton and Wellingborough and, to a lesser extent, in Daventry, Towcester, Brackley, Corby and Kettering. Certain villages in the county can be identified as Japanese knotweed 'hot spots'. Some villages have experienced a greater spread of knotweed, while other villages apparently remain unaffected.
The Knotweed Company is based in Northamptonshire in Daventry and has contracts in all parts of the county. Our founder, Brian Taylor, has lived in the county since 1996.
The Knotweed Company services its contracts - which include long-term herbicide programmes, Mortgage Risk Surveys for Japanese knotweed and construction-enabling works - mainly from our Daventry premises.