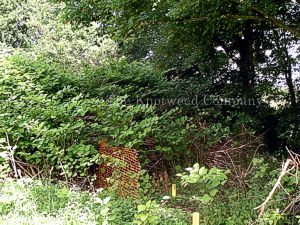 Well-established stand of Japanese knotweed
along the edge of a field in Oxfordshire
Japanese knotweed can be found throughout Oxfordshire. Although not very common in many parts of the county, it is an increasing problem. For instance, we have a number of clients in the Summertown part of Oxford and also work on sites elsewhere in the county, including Witney, Banbury and Bicester.
Our founder, Brian Taylor, spent most of his childhood in the county, attending schools in Stonesfield, North Leigh and Witney. His brother still lives in Oxfordshire.
The Knotweed Company services its contracts - which include long-term herbicide programmes, Mortgage Risk Surveys for Japanese knotweed and construction-enabling works - mainly from our Northamptonshire premises.