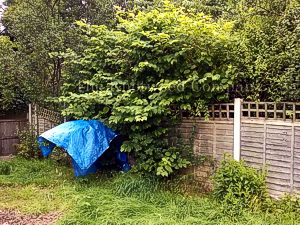 Japanese knotweed growing over a
boundary fence in Staffordshire
Japanese knotweed can be quite common in many parts of Staffordshire. It is not a heavily-infested county, but local 'hot spots' certainly exist.
The Knotweed Company has a number of active contracts throughout the county, including in Stoke-on-Trent, Newcastle-under-Lyme, Lichfield, Burton-upon-Trent, Cannock, Leek and Tamworth. We have found that the South and East of the county have more recorded instances of Japanese knotweed – although it can be found anywhere in the area.
The Knotweed Company services its contracts - which include long-term herbicide programmes, Mortgage Risk Surveys for Japanese knotweed and construction-enabling works - mainly from our Daventry premises.