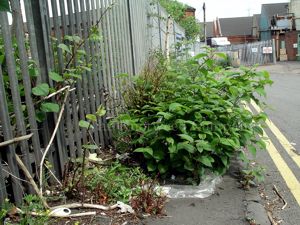 Japanese knotweed growing through
a tarmac pavement in Birmingham
Japanese knotweed is very common in all parts of the West Midlands, especially in the areas of Dudley, Wolverhampton, Walsall and Stourbridge, but is becoming increasingly common throughout Birmingham, Solihull, Sutton Coldfield and West Bromwich.
The Knotweed Company and staff have many connections with the West Midlands. Our founder, Brian Taylor, has many family members in the area. His mother was born in Redditch, his grandfather worked for Royal Enfield at the Enfield works and his grandson worked on a Japanese knotweed construction project on the old Royal Enfield site a few years ago.
The Knotweed Company has recently been working on Japanese knotweed remediation contracts for Birmingham Civic Homes and numerous private individuals and companies (including social housing and privately run housing associations) throughout the West Midlands area. We liaise with the Canals and Rivers Trust on dealing with Japanese knotweed infestations by some of the many canals in the region and also treat knotweed infestations for some of the longest established foundries in the West Midlands.
The Knotweed Company services its contracts - which include long-term herbicide programmes, Mortgage Risk Surveys for Japanese knotweed and construction-enabling works - mainly through the use of our local technicians and surveyors from our Northamptonshire premises.