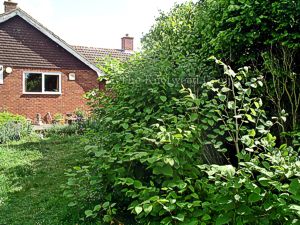 Japanese knotweed in a
garden in Worcestershire
Japanese knotweed can be frequently found in Worcester and Worcestershire. There are a number of 'hot spots' where knotweed may be found, including Evesham, Bromsgrove, Stourport-on-Severn, Upton-on-Severn, Droitwich Spa, Redditch, Tenbury Wells, Kidderminster, Pershore, Bewdley, Malvern and Worcester. In certain parts of Worcestershire, large stands of Japanese knotweed may be found growing by the roadside and sizeable infestations of knotweed are not uncommon on private land.
The mother of our founder, Brian Taylor, is from Redditch, and his grandfather worked for many years for Royal Enfield. In an odd twist, Brian later managed an excavation of Japanese knotweed from the old Royal Enfield site.
The Knotweed Company services its contracts - which include long-term herbicide programmes, Mortgage Risk Surveys for Japanese knotweed and construction-enabling works - mainly from our Northamptonshire office.